13/11-17/11. Ett stort tack till er alla för alla glada
tillrop och hälsningar inför avseglingen!
Dagarna har varit intensiva med
uppgradering och reparation av watermakern, små förbättringar på båten, omfattande
proviantering, seminarier och sociala aktiviteter. Frysen ombord är nu fylld
till bristningsgränsen med färdiglagade grytor, kött och grönsaker. Glassen
fick vi äta upp för den fick inte plats.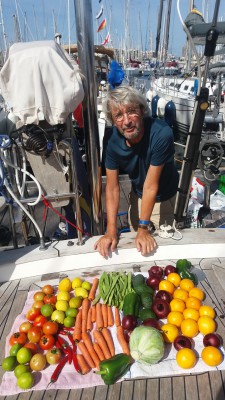 Båten har nu försetts med en liten gul
transponder som var 12.e timme skickar upp vår position till en satellit. De
som är intresserade kan sedan följa Salsas färd på ARC.s hemsida: https://www.worldcruising.com/arc/eventfleetviewer.aspx.
På onsdagskvällen hölls ett väldigt trevligt kostymparty där temat var "Under
the Sea". Det var imponerande att se vilket arbete som en del besättningar lagt
ner på kostymerna.
18/11. Tyvärr måste Bill lämna oss idag. På grund av att USA
lovat hjälpa Argentina att söka efter en saknad ubåt och om möjligt rädda
besättningen i den så blev Bill beordrad att återvända till USA. Det var med
tungt hjärta och stor saknad från vår sida som Bill lämnade oss. Dessbättre
kunde Stefan B. ställa upp med mycket kort varsel och anländer redan ikväll
från Sverige. Ingen betänketid här inte!
Dagen avslutades med ett "farewell firework" över marinan.
19/11. ARC2017 startar! Det ska bli härligt att komma till sjöss igen efter två veckor här i marinan. Vi startar kl 13.00. Allt känns oerhört spännande!
To St Lucia!
13-17th
A big thank you, to all of you,
for all the happy greatings for the sailing!
The days
have been intense with upgrading and repairing of the watermaker, small
improvements on the boat, extensive provisioning, seminars and social activities.
The freezer on the boat is now filled to the burst limit with ready-made pots,
meat and vegetables. We had to eat the ice cream because there was no place for
it. The boat has now been fitted with a small yellow transponder that every
12th hour is sending our position to a satellite. Those who are interested can
then follow Salsa's journey on ARC's website: https://www.worldcruising.com/arc/eventfleetviewer.aspx.
On
Wednesday night there was a very nice costume party where the theme was
"Under the Sea". It was impressive to see all the work some crews had
put on the costumes.
18/11.
Unfortunately, Bill has to leave us today. Because the United States will help
Argentina to search for a missing submarine and, if possible, save the crew in
it, Bill was ordered to return to the United States. It was with heavy heart
Bill left us. He will be very missed! Fortunately, Stefan B. could join us with
very short notice and will arrive from Sweden already tonight. Quick decsion!
The day
ended with a "farewell firework" across the marina.
19/11.
ARC2017 starts! It will be great to get back to sea after two weeks here in the
marina. Our start is at 13.00. It feels very exciting!