2023-04-17
Vädret är lite tuffare här på Azorerna än vad vi har vant oss vid. Med ojämna mellanrum drar djupa lågtryck in från Atlanten och fortsätter åt nordost. Då gäller det att ligga tryggt ankrad eller förtöjd. Nu utnyttjar vi luckan mellan två lågtryck och seglar till närmaste ö, San Miguel som är Azorernas största ö. Här förtöjer vi till kvällen i huvudstaden Ponta Delgadas marina. 
2023-04-18
Det märks att vi har kommit till "storstaden", här bor cirka 70.000 människor. Här vill marinan ha betalt i förskott och det krävs ett kort för att kunna inpassera till marinapontonen. Men lite större städer har också sina fördelar. Här finns två olika segelmakare och efter att ha jämfört tidigare kunders omdömen väljer vi att Rui ska få reparera en trasig lattficka på Salsas storsegel. Men först måste seglet plockas ned och packas i säcken. I övrigt ägnas dagen åt att lära känna staden till fots. När vi råkar passera en biluthyrning bokar vi en liten hyrbil till morgondagen.
2023-04-19
Medan Maria hämtar hyrbilen byter vi segel med Rui. Vi får tillbaka Salsas storsegel och han får i stället genuan så att han kan byta ut lite slitna delar av UV-skyddet.
Vi gör en heldagsutflykt på ön. San Miguel är grön, bergig och därför är vägarna väldigt krokiga. Men vid det här laget har Maria övat upp kurvtekniken och det går både snabbt och säkert när hon rattar vår lilla Fiat500. Vi åker först till en utsiktspunkt och beundrar Lagoa Azul och Lagoa Verde (den blå och den gröna sjön). Sjöarna ligger djupt nedanför oss i en krater. Det var tur vi hade karta med oss för från utsiktspunkten var det omöjligt att avgöra viken sjö som var blå och vilken som var grön.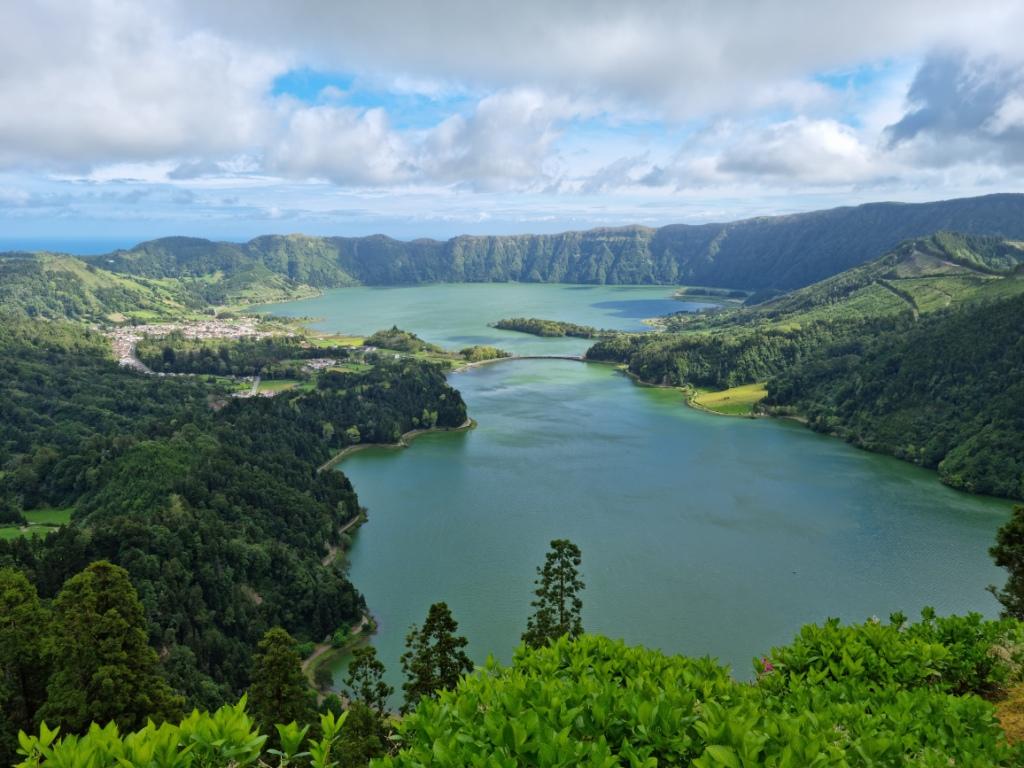 Nästa stopp var Ferraria Thermals där vi tänkte bada havsbad i naturpooler uppvärmda av vulkanisk aktivitet. Eftersom det blåste kuling på platsen och berget runt poolerna knappt var märkbart varmare än luftens sjutton grader avstod vi från bad. Vi for i stället iväg och åt lunch på en fiskrestaurang som heter O Pescador Restaurangen låg i ett industriområde i Rabo de Peixeoch utsidan såg väldigt sliten ut. Men man ska inte döma hunden efter håren. Restaurangens insida var trevlig och maten var väldigt god.
Enligt vår guidebok finns på San Miguel Europas enda två teplantager. Enligt samma guidebok så är Gorreana Tea dessutom Europas äldsta teplantage (från 1883) så vi valde att besöka den. Det var väldigt intressant att se maskinparken som inte verkade ha förnyats sedan starten men teet var en besvikelse enligt vår smak. Det var för mycket ogräs bland de växande plantorna och det färdiga teet tyckte vi både luktade och smakade hö.
2023-04-20
Det finns fler fördelar med att ligga i en storstad. Vi har blivit bortskämda med rykande färskt bröd, hämtat av Henrik, till frukost.
Vi hämtar den lagade genuan hos segelmakaren men idag blåser det för mycket för att vi ska våga sätta upp några segel på Salsa. I stället förbereder Fredrik mat som stoppas i frysen inför seglingsetappen från Azorerna till Brest. Efter middag ombord spelar vi Chinaschack som Maria vinner. 
2023-04-21
Mellan vindbyarna lyckas vi faktiskt sätta upp både storsegel och genua och Maria byter ut en läderskoning på genuaskotet. Nu är allt klart för nya seglatser.  I övrigt ägnas dagen åt diverse städ- och underhålls- arbeten på Salsa.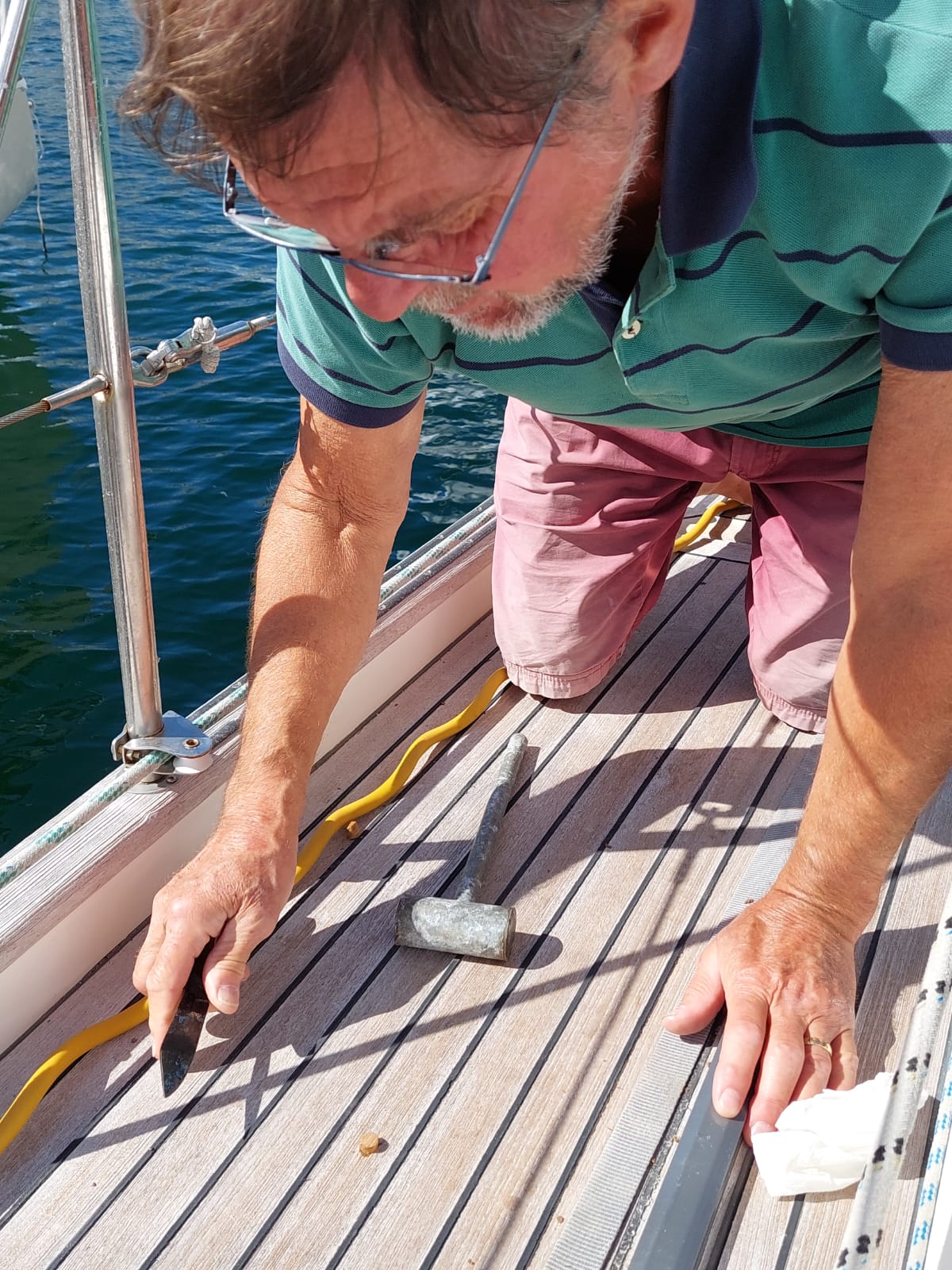 Henrik målar utan lov Salsas logotyp på kajen, som sedan tidigare är fullmålad med konstverk från tidigare båtbesökare.
På kvällen går vi till en restaurang som heter A Tasca och äter mycket gott. Förutom både förrätt och efterrätt, den största tonfiskfilé (cirka fyra centimeter tjock) vi upplevt till huvudrätt. 
2023-04-22
Egentligen skulle vi lämnat San Miguel idag, men vädret ville annorlunda. Väderprognosen lovar byvindar upp till 15 m/s så vi skjuter upp avfärden till måndag då det ska blåsa lite mindre.
Det är en regnvädersdag här. Skurarna duggar tätt när Maria och Henrik gör ett besök på den lokala marknaden medan Fredrik förlänger Salsas vistelse i marinan. Marknadsbesöket resulterar i både grönsaker och färsk fisk till middagens fisksoppa.

Visste ni att Azorerna är den enda platsen inom Europa där man odlar ananas? Vi tar en promenad till en närliggande ananasplantage som i växthus odlar ananas som skördas året runt. Vi får bland annat lära oss att ananasodlingar ersatte apelsinodlingarna efter att apelsinerna drabbats av sjukdomar. Det tar två år att producera en färdig ananas. Besöket avslutas med smakprover på både ananaslikör, ananasjuice, ananasglass och ananassylt. 

2023-04-23
Vad gör man en söndag i Ponta Delgada? Så här i april kan man gå på vårkonsert, Concerto de Primavera. Och det gör vi. Vi får lyssna till blåsorkestern från det regionala konservatoriet i Ponta Delgada. Vi får njuta av en timmes fin musik på Teatro Micaelense. 
2023-04-17
The weather in the Azores is a little tougher than we are used to. Deep low pressure moves in from the Atlantic at irregular intervals and continues to the northeast. Then it is necessary that we are securely anchored or moored. Today we take advantage of the gap between two low pressures and sail to the nearest island, San Miguel, which is the largest island of the Azores. In the evening we moor in the marina in the capital Ponta Delgada. 
2023-04-18
No doubt that we have reached the "big city", around 70,000 people lives here. The marina wants payment in advance and a security card is required to be able to enter the marina pontoon. But larger cities also have their advantages. There are two different sail makers in the harbor, and after comparing previous customers' reviews, we choose Rui to repair a broken batten pocket on Salsa's mainsail. First the sail must be taken down and packed in the sail bag. Otherwise, the day is spent getting to know the city by foot. When we pass a car rental, we book a small rental car for tomorrow.
2023-04-19
While Maria collects the rental car, Henrik and Fredrik switch sails with Rui. We get Salsa's mainsail back and instead he gets the genoa so he can replace the slightly worn parts of the UV protection.
We do a full-day excursion on the island. San Miguel is green, mountainous and the roads are very curvy. But by now, Maria has got a lot of practice in the curve technique, so she drives us quickly and safely in the little Fiat500. The first stop is the viewpoint to admire Lagoa Azul and Lagoa Verde (the blue and the green lake). The lakes lay deep below us in a crater. Good we had a map with us because from the viewpoint it was impossible to tell which lake was blue and which was green.
The next stop was Ferraria Thermals where we planned to take a swim in natural pools heated by volcanic activity. As there was a gale blowing and the mountain around the pools was barely noticeably warmer than the seventeen degrees of the air, we refrained from swimming. Instead we continued and had lunch at O Pescador, a nice fish restaurant in Rabo de Peixe . The restaurant was located in an industrial area and the outside looked a bit shabby. But you shouldn't judge a dog by its hair. The inside of the restaurant was very nice and the food was excellent.
According to our guidebook, San Miguel is the home of Europe's only two tea plantations. According to the same guidebook, Gorreana Tea is Europe's oldest tea plantation (from 1883) so we chose to visit it. It was very interesting to see the machinery which didn't seem to have been renewed since the start but the tea was disappointing to our taste. The tea both smelled and tasted like hay in our opinion. 
2023-04-20
There are many advantages of being in a big city. Henrik has been taking a walk in the morning and returning with fresh breakfast bread.
We pick up the repaired genoa from the sail maker. We don't dare to put back the sails on Salsa since it's much too windy. Fredrik cooks a stew that we put in the freezer. Good to have for the sailing leg from the Azores to Brest, France. After the dinner on board we play Chinese chess which Maria wins. 
2023-04-21
Between the gusts of wind, we actually manage to set up both the mainsail and the genoa, and Maria replaces a leather protection on the genoa sheet. Everything is ready to sail on! The rest of the day is devoted to various cleaning and maintenance work at Salsa. Henrik paints Salsa's logo on the quay, which is already full of artwork from previous boat visitors.
We visit a restaurant called A Tasca and eat a very nice dinner in the evening. We get the biggest tuna fillet (about four centimetres thick) we have ever eaten.
2023-04-22
Actually, we were supposed to leave San Miguel today, but the weather wanted otherwise. The weather forecast promises gusts of up to 15 m/s, so we postpone the departure until Monday when it should be a little less windy.
It's a rainy day. Maria and Henrik visit the local food market in the rain, while Fredrik visit the marina office and extends Salsa's stay in the marina. The visit to the food market results in both vegetables and fresh fish for dinner's fish soup.
Did you know that the Azores are the only place in Europe where pineapples are grown? We take a walk to a nearby pineapple plantation that grows pineapples in greenhouses that are harvested all year round. We learn that pineapple plantations replaced the orange plantations after the oranges were affected by diseases. It takes two years to produce a finished pineapple. The visit ends with tasting of pineapple liqueur, pineapple juice, pineapple ice cream and pineapple jam.
2023-04-23
What do you do on a Sunday in Ponta Delgada? Since it's April you can visit a spring concert, Concerto de Primavera. We listen to the brass band from the regional conservatory of Ponta Delgada. We enjoy one hour of nice music at Teatro Micaelense.